SPRINGFIELD, Mo., March 23, 2023 — The Drury University Board of Trustees has accepted the resignation of Dr. Timothy Cloyd. Dr. Cloyd, who began his tenure as Drury's 18th president on July 1, 2016, has decided to step away from his position due to family health concerns.
"The board and I are so grateful for all that Dr. Cloyd has accomplished during his nearly six years at Drury," said Rita Baron, chair of Drury University's Board of Trustees. "Some of his successes include the creation of our Campus Master Plan, implementation of the Your Drury Fusion curriculum and most recently the completion of the new O'Reilly Enterprise Center. These achievements have helped to advance Drury and our mission of student success; for that, we thank Dr. Cloyd and wish him and his family all the best."
The Drury University Board of Trustees and the Drury community are thrilled to announce that John Beuerlein has accepted the position of interim president to be effective immediately.  Beuerlein is a distinguished financial analyst and philanthropist who has made significant contributions to the field of finance and education.
"The board and I know that John is the right choice for this role. We are confident that under his leadership Drury will flourish and build momentum. As we head into the 150th anniversary of the institution, Drury remains a strong and stable place," said Baron.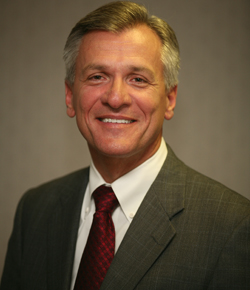 Born in Rolla, Missouri, in 1953, Beuerlein's family moved to Springfield a year later.  He attended Saint Agnes Catholic grade school before graduating from Subiaco Academy in Subiaco, Arkansas in 1971. He went on to earn a bachelor's degree in business administration from Drury University in 1975 where he met his future wife, Crystal Layne Tinlin, who is also a Drury alum. The couple married the following year. That same year, Beuerlein joined the financial services firm of Edward Jones where he would spend the next 42 years of his career.
In 1977, Beuerlein earned his Master of Business Administration from Washington University in St Louis. In 1980 he was named a General Partner at Edward Jones. He earned his Chartered Financial Analyst designation from the University of Virginia in 1981. He would later serve as a member of the Board of Governors of the St. Louis Society of Financial Analysts.
Beuerlein's dedication to education and philanthropy is reflected in his many contributions to his alma mater, Drury University, where he has served as a trustee from 1991 to 2011, including four years serving on the investment committee and as Board Chair from 2006-2010. He was awarded the Honorary Doctor of Humane Letters degree from Drury in 2013 and was inducted into Drury's Breech Hall of Fame in 2008. In 2011, he received the Distinguished Alumni Award and was elected an Emeritus trustee. In 2016 he was elected one of three Life Trustees.  Both Crystal and John received the Distinguished Spirit of Drury award in 2021.
Beuerlein's commitment to education and philanthropy has extended beyond Drury.  He has also served as a member of the Board of Trustees at Washington University in St Louis and as president of their Eliot Society.  In 2009 he received a Distinguished Alumni Award from Washington University.  He served as the National Chair of the Gephardt Institute for Civic and Community Engagement from 2016 to 2023.
When asked about the opportunity to serve as interim president for Drury University Beuerlein said, "Fifty years ago the education we received from Drury set us up for a lifetime of success.  To be able to serve the university in this way and to be a daily part of this spirit of community, so passionate about student success, is the honor of a lifetime!  It's a special bonus to be able to spend more time in my hometown closer to many friends and family members – it's the icing on the cake for me!  My job is to prepare our university for its next president."
The Beuerleins reside in Clayton, Missouri, and continue to be active in numerous local and national non-profit organizations.  They have three children and four grandchildren.
###
Media Contact: Jasmine Cooper, Director of University Communications and Media Relations – (417) 873-7390 or JCooper020@drury.edu.
Phone Numbers
Email. drury@drury.edu
Privacy Policy
900 North Benton Avenue
Springfield, MO 65802