I'm someone who says yes to things. I go back to this quote I came across in high school: you get in life what you have the courage to ask for. Whether it was lacing up my first pair of skates, moving to the Maritimes or putting on a headset for the first time, I found the courage to say yes to opportunities that scare me.
I grew up in a household of hockey fans. Every morning before school, I would eat my bowl of Froot Loops and watch SportsCentre on TSN, amazed that people could talk sports for a living. My father and my older brother both played hockey, so it was natural for me to follow in their footsteps. I initially played boys' hockey, switching to girls' hockey in U11. That accelerated my passion for the game because I walked into a dressing room and immediately met 23 girls that loved the same sport I did. To this day, I'm still close with some of my minor hockey teammates.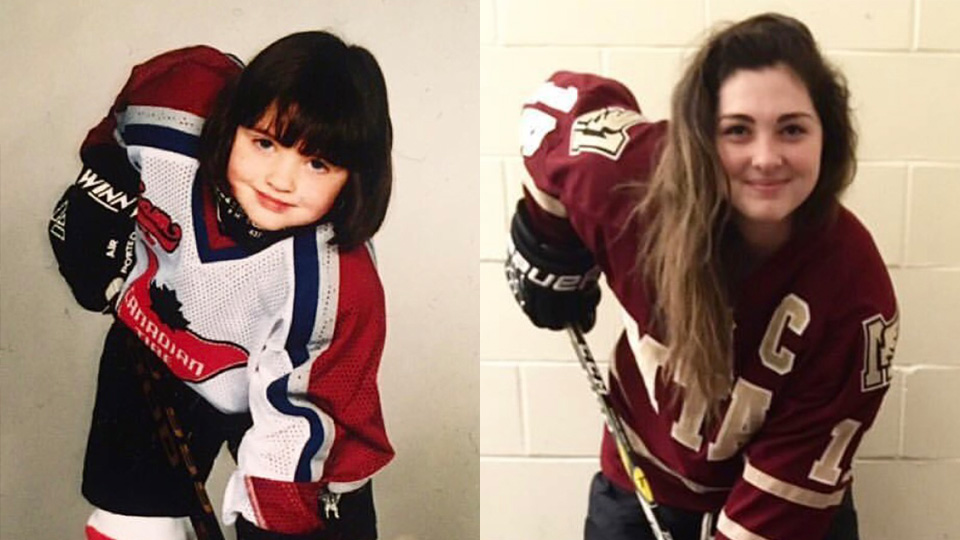 In Grade 12, I was playing for the Ottawa Junior Senators. My teammates were committing to colleges, but I didn't know what I wanted to do. I was at a crossroad. I wanted more balance between hockey, school and life. My student teacher at the time, Andrea Leacock, recommended I check out her alma mater, Mount Allison University. From the moment I met the coach, toured the town and met a few of the players, it felt right. I had never been to the Maritimes before that trip, but I chose to call Sackville, New Brunswick home for the next five years, playing hockey, studying business and discovering television along the way.
I knew I wanted to turn my hobby into a career in my fifth year of university when I saw first-hand the excitement an interview could bring to a young athlete. I had a chance to volunteer at a local cable channel, Eastlink Community TV. It was my first time filming a story, we were covering a girls' junior high school basketball championship. I went up to the MVP and asked her the good old question, "How does it feel to have won?" The look of sheer terror, happiness and anticipation all mixed into one emotion, surrounded by her giggling teammates, was priceless. It was in that moment I realized I was seeing myself, and what it would have been like if someone came up to me and my teammates wanting to interview us after a win, recognizing our accomplishment. I knew from that moment on, I wanted to provide women athletes an opportunity to have their accomplishments honoured and voices heard.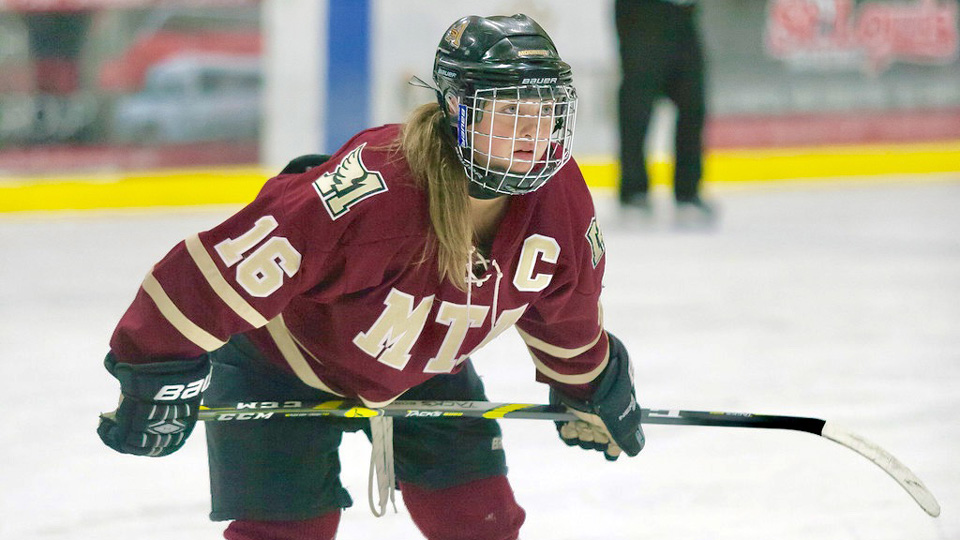 When I joined Eastlink Community TV full-time, it was my manager, Brett Smith, who encouraged me to try play-by-play. For the first few weeks, I got my feet wet—I didn't know much about live broadcasting. I learned quickly that in television, you learn by doing; it's all about the reps. I knew I would either sink or swim, and I swam. Within two months, I was hosting the Halifax Mooseheads broadcasts, and within three months, I was calling hockey. Five months later, I was calling soccer, basketball, volleyball, even ringette. I began hosting a weekly community show, filling in as a camera operator and producing stories. I tried it all and loved it. I gained an appreciation for grassroots sports and began to feel a responsibility every time I called a game. A responsibility to pronounce names correctly, introduce viewers to the person behind the athlete and, most importantly, give an athlete their moment.
The night before I called my first QMJHL game on television, I was nervous. It was going to be the first time a woman provided play-by-play commentary for the league on television. People often ask me what that was like. Well, I felt as though if I did great, I did the job, but if I failed, I'd hinder future opportunities for women. The night before the game between the Halifax Mooseheads and Charlottetown Islanders, I got a phone call. It was Leah Hextall, someone who knows first-hand, on a much larger scale, the feeling of carrying the weight of your gender on your shoulders. She gave me some great advice—trust yourself, because you've earned this, and be present. Two tips I still remind myself.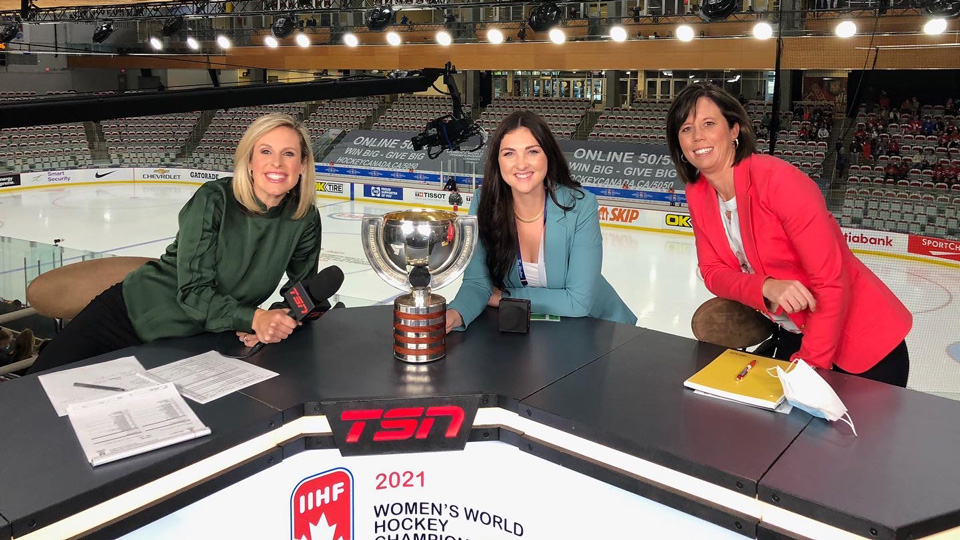 It wasn't too long after that, I got another phone call came from TSN for the 2021 IIHF Women's World Championship in Calgary. This was the first time Group B games were going to be televised, so they were looking for a second commentary team. I had a few weeks to prepare, get comfortable with international women's hockey and European names, and go into the Calgary bubble to work with the network that inspired this Froot Loops-loving, sport-obsessed nine-year-old.
Since then, I have had the opportunity to be a part of some incredible sporting events. Reporting on women's hockey at the 2022 Olympic Winter Games was very special. The event was so unique, I'll never forget that experience in Beijing and how it shaped me as the reporter I am today in Montreal. The most recent World Juniors in Halifax was very memorable because I returned to the rink where my television career started, in the same role, as a rink-side reporter, on the same ice. The IIHF U18 Women's World Championship in Wisconsin stands out for me because for the first time, the U18 women were receiving televised coverage and I was a part of it in the booth. Exposure of the women's game is vital for growth, and I am proud to work with fellow team members that want to even the playing field.
😂🙏🏼 what a week https://t.co/qVlAMdy84g
And that's why I love television—it's a team sport. The crew and staff behind the scenes of a broadcast is where the magic is made. We all have to rely on each other; a skill I developed in hockey. I learned how to trust my teammates, who are now a colour commentator, a camera operator or the producer, who is like a coach. I know what it's like to be a rookie, to value other people's sacrifices and, most importantly, how to fight when the odds are against you.
Jenn Berezowski always wanted the opportunity to officiate at a top-level IIHF tournament.
With 15 years of experience as an on-ice official, working in numerous leagues and tournaments around Canada, Berezowski finally got the chance when she was chosen as a referee for the 2023 IIHF U18 Women's World Championship in Sweden.
There was just one small dilemma. Berezowski had recently given birth to her second daughter, Hannah.
"When I got the phone call in October 2022 to do the U18 Women's Worlds in January, I was about a month postpartum with my second daughter," Berezowski recalls. "It was going to be tight with the timing, but I couldn't say no."
So, a month after Hannah was born, Berezowski resumed officiating games.
"I was back on the ice again and with my daughter attached to my hip," she says.
When it came time to leave for Sweden, Berezowski, along with her mother and baby Hannah, made the trip from their home in Trenton, Ont., across the Atlantic. Meanwhile, her husband and their eldest daughter, three-year-old Scarlett, remained at home and watched as Berezowski refereed three games, including the gold medal game that saw Canada beat Sweden 10-0 to defend its world title.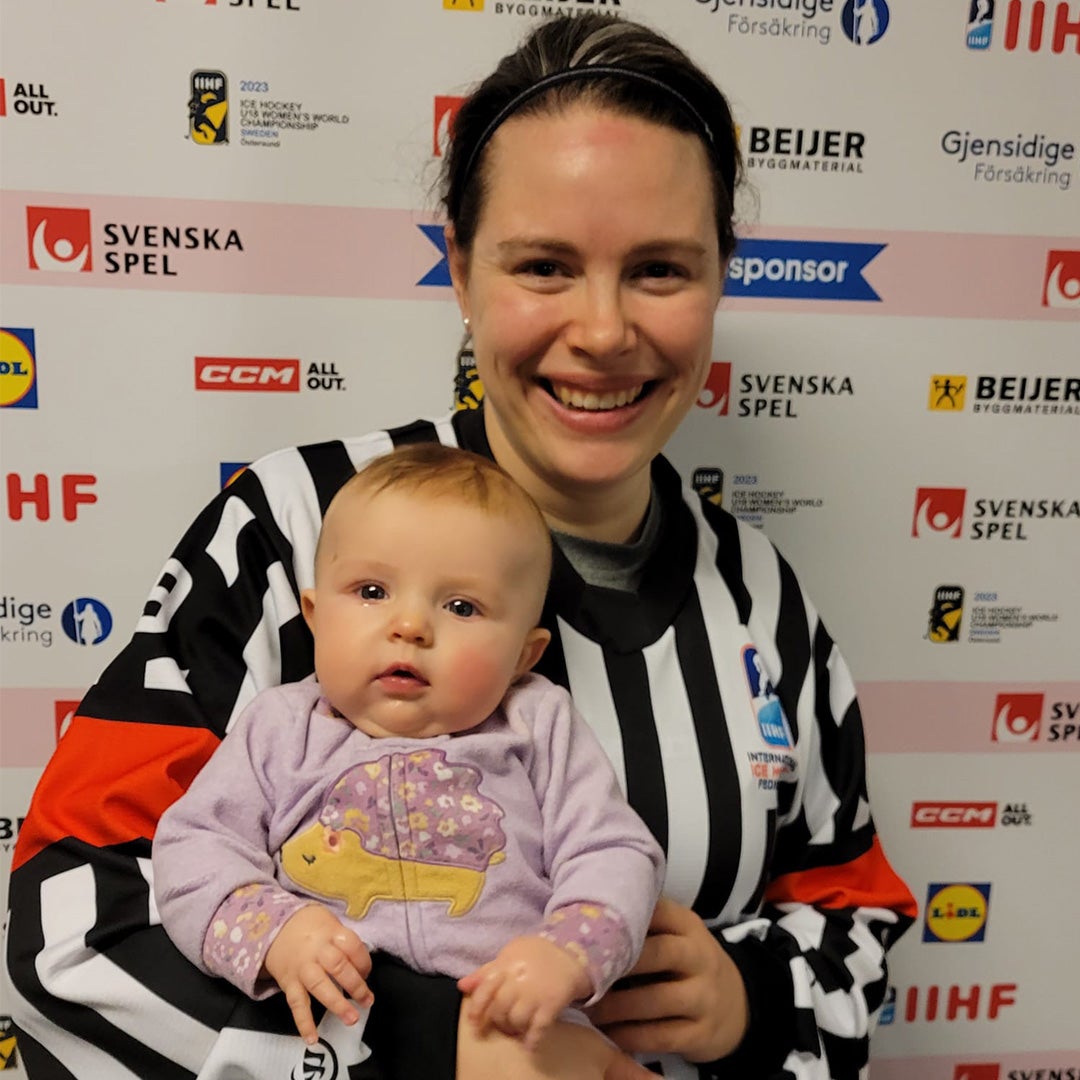 Whether it was at home or on the road, Berezowski credits friends, family and colleagues for supporting her and Hannah.
"Everyone has taken turns coming to the arena with me so that I can be away from home and continue to ref but also have her with me there so I can feed her and keep her healthy," Berezowski says. "My colleagues have been extremely supportive, no one has blinked an eye about me feeding my baby in between periods or having a babysitter hanging around. In doing that, they are helping normalize this path locally, nationally and internationally."
Since the U18 worlds in Sweden, Berezowski has returned to officiating various leagues across Ontario with her daughter by her side. This week, she is part of the crew working the U SPORTS Women's Hockey Championship in Montreal.
With the added logistics of travelling with her baby, on top of being a mother of two and a referee, Berezowski is also a chartered professional accountant. She admits that the spring season is one of her busiest times of the year, with provincial championships and playoffs happening at the same time as the Canadian tax season. "It's all about the support I receive from everyone, including my bosses who have been very generous with allowing me to have flexible hours," Berezowski says. "During the spring, tax season and championships come to a peak, so it's all about giving some and taking some and being one of the hardest workers out there."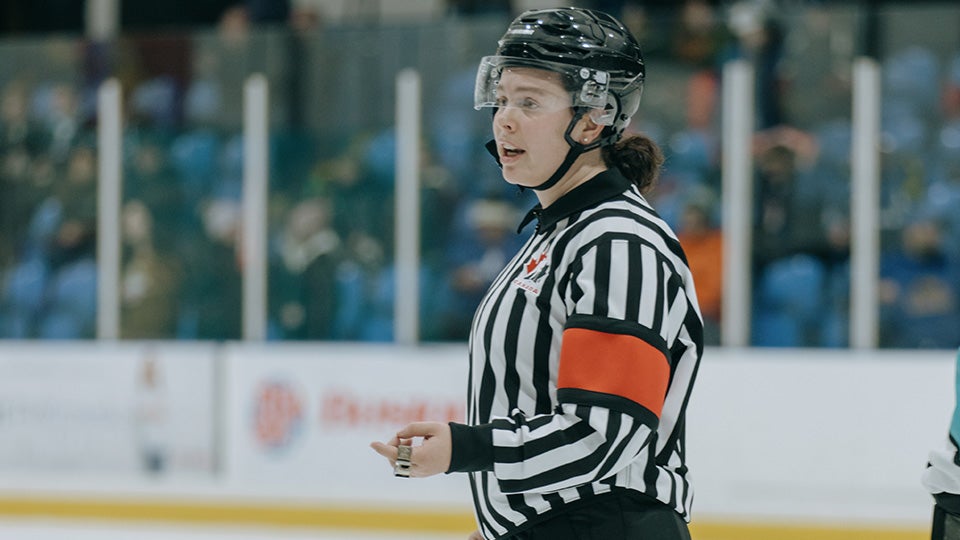 Normalizing newborns at the rink
Since donning the stripes when she was 16 years old, Berezowski says she has only once seen a mom with her newborn at the rink. However, she is optimistic that over time, it will be commonplace.
"We used to have to choose one of the two. I would've had to choose between continuing to do this or is it time to have a family," Berezowski adds. "Now, people have opened their minds to the possibilities and you can do both. I've been lucky to be able to pursue everything."
Berezowski is also in contact with the growing community of women officials. Whether it's sharing experiences or bouncing thoughts and ideas off each other, the community continues to be very supportive. By sharing her story, Berezowski hopes to serve as a role model for other women, particularly new moms.
"I have a lot of colleagues that are young, and they haven't started families yet, and through that online group, we're transparent and showing that we're in 2023, we can do this stuff if we want to, and I love that I can show that within my province and on the ice," she says.
At the end of the day, Berezowski is encouraged by the support from the hockey community.
"It's super rewarding to have a career, be an official on the ice and a mom, too," she says. "Seeing people like Natalie Spooner and all she's doing, we're showing moms what is possible, and that we can do anything that we want to once we set our minds to it."
Seven years old, Knox watched the likes of Danielle Goyette, Cassie Campbell and Kim St. Pierre power Canada to a dominant 8-1 victory over China at the Kitchener Memorial Auditorium during the 2000 IIHF World Women's Championship.
"That was enough for me to latch onto that dream of one day wanting to be on the Olympic team," Knox says.
Since that game 23 years ago, the Stouffville, Ont., native has had a successful career as a goaltender, winning everywhere she played. In university, she helped lead the Wilfrid Laurier Golden Hawks to four straight Ontario University Athletics (OUA) championships . She won gold at the 2011 Winter Universiade as a member of Team Canada and in 2018 captured the Clarkson Cup with the Markham Thunder in the now-defunct Canadian Women's Hockey League (CWHL).
She also had a couple of chances to wear the Maple Leaf with Hockey Canada, including a silver medal with Canada's National Women's Under-22 Team at the 2009 MLP Cup and three appearances with Canada's National Women's Team.
As her playing career progressed, Knox found herself surrounded by influential women who inspired her to find her voice and become a leader.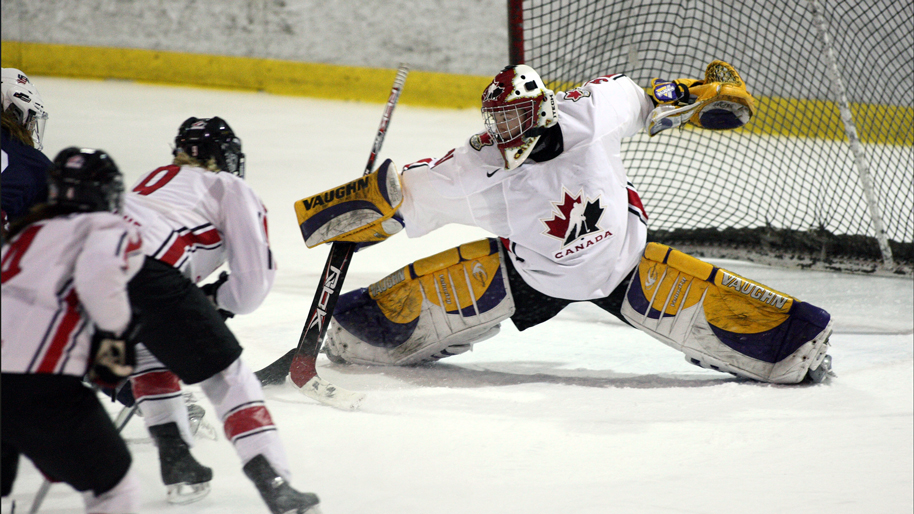 During her time in the CWHL, Knox also served as the co-chair of the CWHLPA and later became a founding board member of the Professional Women's Hockey Players Association (PWHPA). In 2020, when the COVID-19 pandemic and Black Lives Matter movement called for a time of reflection, Knox made the decision to step down from the board, inviting Sarah Nurse to join and be an influential voice.
"I wanted to make sure [Sarah Nurse] had a voice at the table," says Knox. "We're really lucky to have her as an advocate for our sport and she's also doing so much outside of hockey, it would have been such a missed opportunity if I hadn't invited her."
Today, Knox does commentary during PWHPA Dream Gap Tour games, while serving as an advisor to the PWHPA. Away from the rink, she is a firefighter with the Town of Oakville, and if that wasn't enough on her plate, she along with long-time friend [and fellow Team Canada alumna] Karell Emard, launched a podcast called The Knoxy & Kax Show on SDPN last year.
"Before the last Olympic Games, [SDPN CEO] Adam Wylde came up to me and said, 'We want to do a women's hockey podcast and I want you to be the host,' and it's been so fun," Knox says.
The podcast, which began as a partnership between SDPN and the PWHPA, features some of the biggest names in women's hockey sharing their stories and experiences in and around the game. Past guests include familiar names like Marie-Philip Poulin, Jocelyne Larocque, Sarah Nurse, Emily Clark and Natalie Spooner.
"There's a huge learning curve but what a cool opportunity to hear from these players, hear about their journey and help people understand why what we are is so important," says Knox.
"After two seasons, we're doing it on the fly and feeding off each other," Emard says. "When Liz and I were playing, we never had a chance to see and get to know our idols, so I think it's super important for our listeners to listen to not just national players, but professional players too, so they can hear different stories and that there is more to achieve." "For too long, we've judged our career on whether or not we made the national team, but a very successful career is also playing professional and being successful within those leagues."
In addition to hosting a podcast and her work with the PWHPA, Liz Knox is also a firefighter with the Town of Oakville. (Photo supplied)
Through events like the recently completed Rivalry Series and 2023 IIHF Women's World Championship next month in Brampton, Ont., Knox hopes the added exposure to women's hockey brings new fans and athletes to the sport.
"It's representation and the fact you can see yourself in that person out there," says Knox. "Now, you get to see people like Sarah Nurse, like Cassie Campbell, all these incredible people and you see them crushing these goals on the ice or on national broadcasts, in a space that hasn't traditionally welcomed them. It's going to invite and inspire more dreams, more people and young athletes to chase those dreams.
"The more inclusive we make this space, the more we will learn about ourselves and each other and make for some fun hockey to consume."
As women's hockey continues to expand and grow, Emard has no doubt that Knox will continue to play a big role in leading the way.
"She's always been the voice of the players," Emard says. "The players are very trusting of her and I hope she keeps doing it because we all feel like we are in good hands when she is around."

In the hockey community, the women's game has never been stronger.
To celebrate International Women's Day, Hockey Canada has collaborated with some of the most successful women in the game to answer one question:
Why is it important to see women in influential positions in the game?
Alex Clarke (Drake, Sask.)
Clarke began officiating when she was 11 years old. and became the first woman to officiate in the Western Hockey League (WHL) in September 2021. She is also one of the first women to officiate in the American Hockey League (AHL), and was chosen to represent Canada on the ice as an official at the 2022 Olympic Winter Games.
Angela James (Toronto, Ont.)
A Hockey Hall of Fame inductee, four-time world champion and a member of the Order of Canada, James recorded 33 goals and 54 points in 50 games played with Canada's National Women's Team from 1990-1999. Today, James is the co-owner and general manager of the Toronto Six in the Premier Hockey Federation.
Brianne Jenner (Oakville, Ont.)
A two-time Olympic gold medallist, three-time world champion and long-time alternate captain, Jenner is a leader on and off the ice with Canada's National Women's Team. She is closing in on 150 games wearing the Maple Leaf, recording 106 points (41-65—106) to rank 13th in all-time Team Canada scoring.
Kori Cheverie (New Glasgow, N.S.)
Since joining the Team Canada program in 2018, Cheverie has become a familiar face behind the bench, helping guide Canada to gold medals at the 2021 and 2022 Women's Worlds, and the 2022 Olympics. She made history last spring, becoming the first woman to serve as a coach with a men's national team at the 2022 IIHF U18 World Championship.
Manon Rhéaume (Lac Beauport, Que.)
Rhéaume became the first—and still only—woman to play in an NHL game with the Tampa Bay Lightning in 1992. As a member of Canada's National Women's Team, the netminder is a two-time world champion and a silver medallist at the 1998 Olympics—the first year women's hockey was included in the Games.
Marian Jacko (Wiikwemkoong First Nation, Ont.)
Elected to Hockey Canada's Board of Directors in December 2022, Jacko is the Assistant Deputy Attorney General for the Indigenous Justice Division of the Ontario Ministry of the Attorney General. Currently, she is the President of the Little Native Hockey League ("Little NHL"), the President of Anishnawbe Health of Toronto, and the head coach of the U18A team in North York.
Stephanie White (Toronto, Ont.)
A former coach of women's hockey who won gold with Canada's National Women's Team in 2007 and silver in 2009 with Canada's National Women's Under-18 Team, White is currently BC Hockey's chair of the board. She is currently the director of athletes at the University of Windsor and previously served as the director of sport at Western University.
Young, fierce and determined, Alanna Mah's path to Canada's national women's para hockey team was a direct one.
At just six months old, she was diagnosed with neuroblastoma. Doctors found a tumour around her spinal cord. While she fought the cancer and won, her battle left her with an incomplete spinal injury that impairs the full use of her legs.
That had little effect on Mah's athletic career, though; she played multiple sports growing up through the Paralympic Sports Association in her hometown of Edmonton. Having grown up watching hockey with her family, Mah seized the opportunity to try para hockey as soon as she could.
"I knew that para hockey existed," Mah says. "But I didn't really know much about it. So, I just went out to one of their practices and they let me give it a go and [I] fell in love with it."
From there, Mah trained and practiced with the co-ed Edmonton Impact of the Edmonton Sled Hockey Club. When she reached eligibility at age 14, she attended an open tryout for the national team and made it.
"When I joined para hockey at nine [years old], I was the only girl on my team. I didn't really know of any girls playing in the province or in Canada. So, when I made the women's national team at 14, that was my first exposure to even knowing that there was a women's team."
Eight years later, Mah and her national team teammates want to change that narrative. Through grants from the Hockey Canada Foundation, the women's team runs a grassroots development program, hosting 'try-it' events for young girls across Canada in conjunction with its national training camps.
"I think it's super important to have girls see that there's an opportunity to play in an all-female environment, playing this game," explains Mah. "Immersing them in that environment with us national players as mentors and coaches showing them, 'This is where you can go. We're here, we exist.' It gives them someone to look up to."
While the 22-year-old forward's passion is in growing the women's game, Mah relishes the opportunity to compete on the co-ed side, playing for Team Alberta—the four-time national para hockey champions—alongside a few members of Canada's National Para Hockey Team, Cody Dolan and Adam Kingsmill.
"I love the physical side of it," Mah says of playing full-contact para hockey at the highest level. "It's one of my favorite parts of playing the game. I am on the smaller side, so sometimes it can be a little scary, but they don't treat me any differently out there. Everyone's on the same playing field and they don't really even see that I'm a girl, they just see me as a player."
With the Impact (with whom she both coaches and plays) and Team Alberta, Mah trains daily and is on the ice twice a week, balancing para hockey with full-time kinesiology studies at the University of Edmonton.
Her drive does not go unnoticed, with Derek Whitson, an assistant with the women's national team and former Paralympian, noting, "I've been a teammate of hers through Team Alberta, and I've also been her coach for eight years and it is amazing [to see] the discipline and the work that she's been able to put in over two years to really step her game up.
Through a rebuilding year, she is definitely one of the leaders of her team now and she really is stepping up to the task. She's got this fun personality that isn't your typical leadership, but it really brings out the best in her and the team, because she keeps it light and keeps it fun for everybody."
Whitson and head coach Tara Chisholm are preparing for an invitational national selection camp in Yellowknife, N.W.T., on April 24-May 1 before regional camps through June and July and finally a national team camp in Calgary, July 27-31, 2022.
The team is prepping for the 2022 Women's World Challenge, tentatively slated for the fall.
"It's exciting for our women, because this is one of the biggest, if not the biggest, world events that they've actually been able to pursue." says Whitson. "This is a big opportunity to showcase what our women have been training for all these years and [representing] Canada, we have expectations with a gold standard to be on top at the end."
While para hockey is a co-ed sport, just three women have ever competed at the Paralympic level, including China's Yu Jing, who competed earlier this month at the 2022 Games. The goal for Mah and Women's Para Hockey of Canada – the group that oversees the development of the women's game across the country – is to see the inclusion of women's para hockey in the Paralympics, but a lack of equitable international competition is a major barrier in that push.
While Whitson and Chisholm have dedicated their efforts to international development, awareness and participation domestically is still a priority for Mah and her national teammates.
It's a labour of love for Mah, whose life has been shaped by the game.
"The environment and the people, you can't beat it. It's just like a family.
"I think in any kind of sport, most people would feel that way, but especially being a female with a disability in sport, I think finding that group of people where you can really just relate to, and everyone understands you and gets you is just something that is unmatched."
A Thunder Bay, Ont., native, Julia Tocheri has made a splash in the sports media industry in recent years. A well-known figure at BarDown and co-host of TSN's Leafs Lunch, Julia's path began by playing minor hockey with Hockey Northwestern Ontario (HNO) and the Ontario Women's Hockey Association (OWHA).
With her heart set on converting her love for the game into a career, Julia enrolled in the sports media program at Ryerson University, becoming an on-air personality with the university's Rams Live. From there, she hosted Mississauga Steelheads games in the Ontario Hockey League before joining TSN.
Her headstrong pathway has led her to where she is today and hopes to be a leading example for young women going forward.
As part of the celebration of International Women's Day, HNO chatted with Julia and touched on a few topics regarding women in sport.
Which city deserves its own OHL team? @juliatocheri, @jpolly2 and @corwinmc discuss on CHL on TSN! pic.twitter.com/xp3FVvOB5A

— BarDown (@BarDown) February 26, 2022

Which city deserves its own OHL team? @juliatocheri, @jpolly2 and @corwinmc discuss on CHL on TSN! pic.twitter.com/xp3FVvOB5A
How have you enjoyed your endeavors with TSN and Leafs Lunch?
I have enjoyed them immensely. It's been a crazy kind of ride, being able to start with the social media team at TSN when I was in university and then become a part of the BarDown team. Being able to work in sports is the biggest blessing in the world. I grew up loving hockey and loving sports, and watching sports is one of my main pastimes. So being able to call it a job is a huge honour.
When did you realize you had a love for the game of hockey?
This goes all the way back to my Timbits days at Delaney Arena. My dad was the president of [a local minor hockey association] for a while, all of his friends had sons who were all getting registered in hockey. He just tossed the skates on me when I was three or four, signed me up for Timbits when I was six and I fell in love with it right away.
So many of my childhood memories revolve around hockey practice, revolve around going to the rink, revolve around tournament weekends, even through middle school and high school. So many of my favourite memories growing up are about hockey and playing hockey and just being a part of a team.
What has growing up playing hockey in Northwestern Ontario meant to you?
Northwestern Ontario is a big part of my identity. It's a big part of my brand as well, and I think there's something really special about this corner of the world. All you have to look at is how many NHL players this place outputs. It's crazy for the amount of people that live here.
I think my lack of an ego, my willingness to work hard and my willingness to start at the bottom, which is pretty Northwestern Ontario – a 'get your lunchbox' kind of gritty attitude – has helped me a lot in my career. I didn't realize how helpful it would be as I was growing up, but I'm so grateful for my roots, and growing up there and playing hockey there and just how it was ingrained in day-to-day life and every-day conversations at school. Hockey was a part of everything that we did. Combined with that hard-work attitude has set me up for success in a big way.
Do you see your success as an inspiration for young women to browse all the potential avenues the world of hockey has to offer?
I get messages from a lot of girls saying things like, "I love seeing you on BarDown, I love seeing you on TSN. You're such an inspiration," which is weird to me because two years ago I would look at women like Chris Simpson, like Kate Beirness, like Tessa Bonhomme, Andi Petrillo. I host Leafs Lunch now when Leafs Lunch was one of my favorite shows to watch with Andi Petrillo as the host. Those were the women that made me realize there was a place for me in hockey and to think that I could do that for girls who are watching now is really… It's really special. I can't overstate that, and I just hope it continues on.
There's so much more room for not just women in front of the camera, but women working for NHL teams, women working for junior teams, behind the scenes in sports. The women you see on the camera is a very small percentage of the women that exist in sports broadcasting. Representation is the key. If you see something, you could be it.
Do you have any women role models or influencers that inspired your path?
I just mentioned a few in Kate Beirness [and] Andi Petrillo. Chris Simpson was another person I watched growing up that I thought was really good, still one of the best in the game. And women in hockey, too, [like] Hayley Wickenheiser. So many women. My mom, even. So many moms would've been like, 'Sports? Really? You want to talk about sports for your job?' But my mom's always really believed that I could fit in anywhere and do anything that I'd like to do. Having the support of women around you is really vital in having a career like I do.
What are your words of wisdom to young women around the world?
The first thing, just in terms of on-camera success and success in any industry – being yourself is a big thing. When I really started to own who I was as a person and lean into it, as I developed a brand and a personality and kind of a broadcasting style, the more I leaned into myself, the more I leaned into Thunder Bay, the more I leaned into things I like, the more success I had. Authenticity is the biggest thing in the world when you're making connections, when you're on camera, no matter what you do. When I stopped trying to be somebody else is when I found my greatest success.
Another thing is to use other women as your allies. For example, my producer at Leafs Lunch is a woman, and it's been the coolest thing because I so rarely get to work with women in this industry. I'm used to working with guys. But when women work together, it's awesome. Stop seeing other women as competition and start seeing them as allies. It'll make your life and your career a lot more peaceful. When you have other women to lean on who get it and who have your back, it makes everything so much easier, whether it's sports or any male-dominated industry. To be on one another's side is the biggest piece of advice I can hand out.
The landscape of high-performance hockey officials has historically been dominated by men, but a number of elite women in Northern Ontario are breaking the mould and proving they can find success in high-performance leagues all over Ontario.
In the Northern Ontario Junior Hockey League (NOJHL), there has been an increase of women in stripes in the last few years, and that trend looks to be continuing. The NOHA had the chance to speak with two of its phenomenal officials, Brandy Dewar-Beecroft of Sault Ste. Marie and Joelle Ouellette of Sudbury, to discuss what officiating means for them as they break through the barriers of working junior hockey.
Brandy grew up playing minor hockey in Sault Ste. Marie, and began officiating as a way to earn some extra money. She soon grew to love being on the lines, and continued working her way up the ladder as she attended Brock University. Brandy found the key to making the transition from player to referee was learning what situations like icings looked like from different perspectives on the ice—and learning the rulebook inside and out.
Joelle's first hockey coach was her father, and she also transitioned to officiating out of playing minor hockey in Sudbury. The Sudbury officiating community immediately took Joelle under its wing, and she felt like she gained a new family who were always there to help with questions or guide her in the right direction. Joelle soon found herself on the lines for AAA games, and was invited to the NOHA Development Weekend in 2017.
Both officials credit hard work and dedication to their success. Brandy carries an impressive résumé with multiple IIHF Women's World Championship games under her belt, with her standout game being the CWHL Clarkson Cup final in 2014. She highlights this game as the one that showed her that she was on the right track, and gave her the confidence and motivation to keep working hard toward her officiating goals. Recently, she was selected to referee the 2021 IIHF Women's World Championship (Division 1 Group A) in Angers, France, which was cancelled due to COVID-19, and the 2022 IIHF U18 Women's World Championship in Linköping and Mjölby, Sweden, which she respectfully declined as she welcomed a new baby. This year, Brandy is back for her first season with the NOJHL.
Joelle is still working her way through the ranks, but she's already making a name for herself, and in 2018 was invited to the NHL Exposure Combine. She admits size can be a challenge sometimes for women at the high-performance levels of men's hockey, but following procedures and being well-trained ensures everyone's safety. She's working toward her Level 4 certification, and has her eyes on the Olympic Games in the future.
Both Brandy and Joelle had a lot to say about their hockey families—the fellow officials, supervisors, schedulers and mentors who have helped them along the way, and the hard work and sacrifices often needed to work up to the higher levels. In some leagues, there still isn't mileage available, so to skate in those levels, officials are often losing some of their game fee just to be there. It's also difficult to watch men moving up the ranks faster, but both Brandy and Joelle are confident that there are opportunities for women in the officiating world, and there are supporters out there watching and ready to help bring more women onto the lines, including NOJHL commissioner Robert Mazzuca.
Last season, the NOJHL welcomed Hillary Brennan to the league as its first woman to officiate a game. Hillary is currently officiating in her hometown of London, Ont.
"The continued success earned by Brandy, Joelle and Hillary is a testament to their dedication to the game," Mazzuca says. "Their efforts and skill-set rightfully earned them the opportunity to officiate in the Northern Ontario Junior Hockey League."
The successes of officials like Brandy, Joelle and Hillary have shown that hard work and dedication are paramount, and that the opportunities and support within the officiating community are growing. There is still work to be done to make sure the path is clear for women, and that the systems of high-performance hockey are doing as much as possible to encourage young women to grow into the next wave of high-performance officials, but it's clear that the trailblazers are already here, and they're paving the way for the next generation.
The past two years have been anything but normal for Kayla Munro. Like many athletes, the young goaltender's daily life was shaken up by the global pandemic, as seasons were cancelled and restrictions were put in place. The challenge to find avenues to be able to play hockey became difficult.
For Munro, her journey to continue to play hockey has led her to the unique path of joining the Simon Fraser University (SFU) men's hockey team. The result has been a talented young hockey player being able to continue in the sport while breaking through barriers.
"I didn't know if I was going to get to play hockey again," says Munro. "I am just grateful right now to be playing on the SFU team."
SFU and Munro had a fantastic 2021-22 British Columbia Intercollegiate Hockey League (BCIHL) regular season, going undefeated with a perfect 12-0-0 record. For Munro, she made history throughout the season. She first jotted her name into the BCIHL history books as the first woman to ever play in a league pre-season game on Sept. 25, 2021, when she entered in the third period to take the net versus the Okanagan Lakers. She had a solid outing, stopping 13 of 14 shots in the frame. Munro next made her mark on Oct. 16, 2021, when she became the first woman to start a BCIHL exhibition game, also against the Lakers.
"I was a little bit nervous," Munro says of seeing her first game action. "Honestly, I hadn't thought about it as being a big milestone. I was nervous because I hadn't played a game in about two years. Last year at Syracuse and the year before that I had shoulder surgery. I talked to a sports psychologist and have learned some really good ways to control my nerves and make them a driving force of how well I play. Although a little nervous, I felt prepared."
Munro's crowning achievement, to this point, was on Feb. 5, 2022, when she became the first woman to ever play in a regular season BCIHL game. The 19-year-old took the crease for the third period against the Okanagan Lakers as SFU skated to an 8-5 victory.
For Munro, the original plan was not to rewrite history as a member of the SFU men's hockey team, in fact it was far from it. Her goal was to play NCAA hockey, and it appeared she had attained that lofty accomplishment when she committed to Syracuse University in New York on a hockey scholarship in 2019.
"It was honestly a dream come true to get the scholarship to Syracuse," says the product of North Vancouver, B.C. "It had been my goal to play in the NCAA since I started playing hockey. In my opinion, other than the Olympics, it is one of the highest levels you can get for female hockey."
However, as the world locked down and sports changed, so did Munro's plans as she chose to stay home with family and not play south of the border. The decision was not easy but was met with support and understanding.
"I went to Syracuse for about a month in 2020," says Munro. "We couldn't practice or do anything; we were just stuck in our apartments. For family reasons, I decided to come back home. Originally it was just for a semester, but then I decided just to stay home. [Syracuse head coach Paul Flanagan] was supportive. He is an amazing guy. He wants the best for you, and he told me that he wanted whatever made me happy and what was best for my mental health."
Once Munro decided to stay home in British Columbia, she was left looking for a university to continue her studies. Additionally, she was hoping to find a place to play hockey, a difficult task given all of the restrictions in place associated with the pandemic.
"I applied to Simon Fraser University and was accepted," says Munro.
With her schooling plans secured, she began looking at hockey options.
"I began looking at everything. Even if they had an intramural team or house league, I just wanted to keep playing.
"I found that SFU had a men's hockey team and so I emailed [head coach Mark Coletta] asking if I could try out. I told him a little about myself, the teams I played on and the level that I've gotten to in hockey. He was really supportive right away."
"Kayla needed a spot to play," says Coletta. "I let her know that she was more than welcome to come try out, and if you're good enough to play, you'll play. Given her predicament, we wanted to give her a shot."
The tryout for Munro was successful and after a training camp, she was included on the 2021-22 roster for SFU.
"She can play hockey," adds Coletta. "She's technically very good between the pipes, she moves around very well. So, making sure she adapts well is the important thing."
Coletta was clear that Munro made his squad on the merits of her play. He views her as a hockey player, with no designation of gender.
"Kayla's a tremendous person," he says. "She's proven every day that she comes ready to work and play."
Not being treated any differently is something Munro has valued from Coletta.
"He believes that the best players should be on this team," says the goaltender. "It doesn't matter if you're a girl or a guy. The first time when we talked on the phone, he said that I was just an equal hockey player, no more or no less. I found that very rewarding and empowering, and it made me feel really good."
Over the years, Munro has had many positive influences that have helped her as a player and person. While she was with the North Shore Avalanche of the North Shore Female Ice Hockey Association, Munro was first introduced to Jeff Eaton.
"I have two coaches that have stuck with me," says Munro. "(Eaton) coached a lot with the North Shore Avalanche, came out and did skills with us. Eventually, I got to play for him with the [Pacific Steelers Junior Female Hockey Club]. He's just one of the most knowledgeable hockey people that I know, and so supportive. Coach Eaton just wants to see us succeed and he was the biggest reason why I got my scholarship to Syracuse. I learned a lot of really good things from him.
"The other coach was Delaney Collins. She coached me on the [U18 AAA] Fraser Valley Rush my first year with the team."
Collins, a fixture on defence with Canada's National Women's Team during the 2000s, transitioned her 95 appearances and nine gold medals with the national team into coaching. Collins brought an impressive resume to coaching but also left Munro with a lasting message.
"(Collins) is a big believer in women being empowered," says Munro. "That we should be considered equal, not just in sports, but everything. I learned from her how to be a confident woman. That it's okay to be strong and have muscles, and not just be dainty and delicate. She helped me find who I was as a goalie and a person. She was a really big role model for me."
"Kayla was an amazing individual to work with," recalls Collins. "Her leadership and energy were infectious, and her teammates could count on her to always compete. As a goalie, she was extremely athletic, quick and her puck play was similar to a defender. She is fun to coach and is a great person and role model for young girls."
After everything Munro has experienced over the last two years, she is well aware that plans can change quickly. However, going forward, the young goaltender has set some goals.
"I want to finish my schooling," she says. "That's very important to me. So, for my future, it is continuing my schooling and likely getting a job, while hopefully playing hockey. Honestly, I am grateful to be playing because there was a point I didn't know if I was going to get to play hockey again."
Munro's time with SFU will serve her well in the game, and additionally to help build life skills.
"This has been an adjustment for her," says Coletta. "For Kayla to be able to adapt, I think it will serve her well once this year is over.
"She's worked hard and made a commitment to us. She was ready to play a lot of minutes or play the backup role. Anything to prepare herself for a spot as a starting goalie somewhere next year, whether it's back on the female side or not."
Through it all, Munro has stayed strong through the challenges.
"During the last few years just staying motivated was my biggest challenge," she says. "But I'm extremely happy where I am today. I'm very proud."
Four former elite hockey players who moved behind the bench are using their positions and experience to grow the women's game and mentor young players in New Brunswick.
Head coach Geneviève David and assistant coaches Jocelyn LeBlanc, Kristen McKinley and Taylor Maschmeyer make up the coaching staff of New Brunswick's women's U18 team that will represent the province at the 2023 Canada Winter Games. All four have extensive experience playing high-performance and university hockey before hanging up their skates to lead the next generation.
"Seeing our female staff for the Canada Games, I think it is incredible," says Maschmeyer. "We're all a part of the game in different ways, with different coaching and playing experiences. You don't have to have played the game to be a coach, but it's pretty remarkable to see that we all have a hockey résumé as well as a coaching résumé. I think that's really unique and inspiring."
David is an assistant coach with the St. Thomas University women's team, which secured the Atlantic University Sport (AUS) championship in 2019. She has also coached high-performance women's teams with Hockey New Brunswick (HNB) before and has a handful of Atlantic Challenge Cup titles from the past few years.
Her playing history includes two silver medals with Team Quebec at the National Women's Under-18 Championship, a season with the Quebec Phenix in the Canadian Women's Hockey League (CWHL) and an accomplished career with the Université de Moncton. In David's first season, she won an AUS championship, nabbed bronze at the U SPORTS national championship and was rookie of the year for the university. She was an alternate captain in her second year and captain for her final two seasons with the Aigles Bleues.
LeBlanc played in HNB's high-performance program for four years, including at the 2007 Canada Winter Games. She attended Dalhousie University, where she was a five-time AUS all-star and is still the all-time leading scorer for the women's hockey program. She also won a gold medal with Team Canada at the FISU World University Games. LeBlanc has served as a coach of the high-performance women's program with HNB and attended Canada's National Women's Under-18 Team selection camp as a coach.
McKinley played in HNB's high-performance program for four years, including as a member of Team New Brunswick at the 2015 Canada Winter Games, and on Team Atlantic at U18 nationals in 2015 and 2016. She was on a member of Canada's National Women's Under-18 Team for a three-game series against the United States in August 2016 before playing hockey at St. Francis Xavier University for four years. McKinley first took on a coaching role at the age of 12 and now coaches with the EDZA South U15 AAA Hericanes; she played on the first-ever Hericanes team in 2011.
Maschmeyer was part of HNB's U18 program for two years, including serving as alternate captain of Team New Brunswick at the 2011 Canada Winter Games. Maschmeyer then played for St. Francis Xavier University, winning the AUS championship and a bronze medal at U SPORTS nationals in her first season. She was rookie of the year for the university before serving as alternate captain of the team in her second year. Maschmeyer was named captain for her final two years, receiving the AUS most sportsmanlike player award both seasons. She was head coach of the HNB U18 women's team in 2021 and is currently head coach of the Oromocto High School AAA Blues.
The choice to transition from playing to coaching was easy for all four players, but they all faced a similar challenge: the lack of mentors they had as players.
"I picked up things from coaches I had in the past, but I never had a female role model as a coach when I was a player growing up," David says. "That was a challenge when I became a coach. So now I want to pass on my knowledge and make sure there are young women involved in coaching who can serve as role models."
Additionally, all four played on various boys teams growing up, since playing exclusively with their peers usually wasn't an option. But they all see the tide turning, with more opportunities available for girls and women today.
"It's way different than when I grew up," says LeBlanc. "I didn't start playing hockey with girls until high school, whereas now they can play on an all-female team right from the start. It's important to have that option for girls to explore where they want to go."
The staff recognizes the important role they've been given, and also the unique situation they find themselves in. Each coach has lived these experiences and can relate to their players' ambitions for the future.
"When I was at the U18 Team Canada camp, one quote that stuck with me was, 'We're here to create good hockey players and better people,'" says McKinley. "We're playing a very crucial role in their development."
Above all, they recognize the importance of being a resource and mentor for players who may one day also make the transition to a coaching or leadership role.
"I'm a huge believer in 'if you can see it, you can be it,'" says LeBlanc. "If you can see this representation, not only playing but coaching and officiating, then people can strive to be that as they get older. HNB created an all-female staff and the visibility is important for young female players."
Brayah Bemrose and Zoe Dyke are only 10 years old, but they are already making a name for themselves in the hockey world. The pair are goalie partners – and the only girls on the Ottawa Valley U11 AA Silver Seven.
"It truly does make the conversation rounds, especially when they see two girls in net competing in AAA tournaments in the Toronto area," says Natasha Danschinko, Zoe's mother, the team's goalie coach and a great role model for the girls.
Danschinko is no stranger to elite-level competition herself, having competed in two Ontario Winter Games as a ringette goaltender. She credits her years playing ringette for so much of her hockey success. Danschinko attended Brock University for her undergrad, where she was a member of the women's basketball team. She went on to play university hockey for two seasons, backstopping the Ottawa Gee Gees from 1999-2001, while completing her master's degree and teacher's college. After graduating from the University of Ottawa, Danschinko spent one season playing with the Ottawa Raiders of the former National Women's Hockey League. She still finds the time to strap on the pads today, playing men's pick-up hockey with various groups in the capital region.
"My daughter will no doubt make the switch [to women's hockey] one day, but right now she truly loves playing with and against the boys," Danischinko says. "How cool is it that the two goalies at the AA level in the area this year are girls? Zoe and Brayah are also best friends, so it makes the relationship even more special. They push each other to be their best, but 100% support the success that each have. When they found out they made the team, they were over the moon that they were going to play together and be a girl goalie tandem."
Hockey Eastern Ontario asked Brayah and Zoe about their experience in hockey so far and what advice they would give other girls in the game.
Q: How did you get into hockey?
Brayah: I first got into hockey when I was around three years old. I did learn-to-skate sessions every Monday. My parents then registered me for the Little Sens program. The following year I started hockey with the West Carleton Warriors. I always loved going to the arena to play hockey, and that has not changed at all.
Zoe: My family was playing hockey – and I wanted to play like my mom and brother. I started when I was six years old. I wanted to be a goalie because my mom plays goalie and she made it look like lots of fun, and I said I would never be angry if I let in goals.

Q: What has it been like getting to play with another girl as your goalie partner?
Brayah: It's been an amazing experience so far, not just because she is my best friend – she is really supportive and we understand the same things. We give each other pep talks between periods in a game. When we have to change in a separate change room, it's nice to have my teammate with me.
Zoe: It feels like it's great because there is another female playing with me against the boys – it's probably the best feeling ever as a goalie.
Q: What lessons have you learned from hockey?

Brayah: I think the biggest lesson I've learned from hockey is to never give up, even when things get really tough, and to go that extra mile to get better. I think if everyone remembers to go out on the ice with confidence and know that you will try your hardest even if you don't get the outcome you wanted, you still know that you tried your hardest and you can't change that.
Zoe: Don't give up, don't let other people tell you that you can't play hockey as a girl [and] don't put your head down if you lose or things don't go your way.
Q: What advice would you give to another girl looking to get involved in hockey?
Brayah: Just do it! It can be scary or hard at first, but the more you practice, the better it gets. The main reason to play is to have fun; the minute you are not having fun, you need to figure out the reason and then try to fix that. It doesn't matter what league or level you play, just have fun.
Zoe: Don't let anyone tell you that you can't play hockey as a girl, and don't give up if you don't make a team you are trying out for – there is always a team that will want you.
Q: What are your goals in hockey?

Brayah: I want to keep playing competitive with the boys. I want to make our AAA team, then get drafted and play junior or in the OHL. I also really want to play in university on a Division 1 team in the U.S. I also want to play for the country in the world championship and also go to the Olympics. I want to be a starting goalie in the NHL for a full season.
Zoe: I want to make it to the highest level every year. When I am older, I want to play university hockey in Canada or in the U.S., and I want to play on Canada's National Women's Team.
Q: How do you think we can make hockey more inclusive?

Brayah: I have been really lucky to have amazing coaches. My teammates are amazing and always include Zoe and I in things, which I think has a lot to do with the coaches teaching them that it doesn't matter who you are, it matters how you play the game. Encourage kids to join a learn-to-skate [program] at a young age. Have hockey ambassadors of all ages, races and sexes so that if people have questions, they can reach out to that ambassador. I think a way to make hockey more inclusive is to have more grants and sponsors to help families pay for their kids to play.
Zoe: 1) Teach people that hockey is for anyone, and anyone can play – it doesn't matter if they are a boy or a girl or from a different country. 2) If you see someone that wants to play hockey, you can encourage them to play and show them videos of everyone playing. 3) Create a place where everyone can feel safe to play sports.
Esther Madziya
Manager, Communications
Hockey Canada
(403) 284-6484
[email protected]
Spencer Sharkey
Manager, Communications
Hockey Canada
(403) 777-4567
[email protected]

Jeremy Knight
Manager, Corporate Communications
Hockey Canada
(647) 251-9738
[email protected]